Find services and places nearby you
Just built your kind of journey!
What would You like to do?
You can see everything on map and found something new.
You can save to your favorite places and experience, but the app allows you to build your own routes and holiday plans, as well as share them with others or customize with your friends.
Travelling whit your pet
Where are the dog-friendly destinations when planning a trip or otherwise only visit? Or where is nearest dogs beach or dog park?
Different places for breaks
Where could you have coffee or have a delicious lunch? You can take a break both in the city, as when traveling. Want to find new places to visit?
Where to find unique accommodation
Where would you take a relaxing quick vacation and just enjoy? Or have you been planning a visit somewhere?
Events
Even small events in resorts are hard to come by. See what's on offer in your home area or nearby. There are events around Finland no matter how much.
New experiences
Are you looking for new activities or things to do? You can find new experiences near you.
Relaxing and time for your self
See what welfare services would be near you, what do you want to use? You never know if you can find completely new experiences and new acquaintances
Second hand löytöjä
Do you know where everywhere there are second hand shops where you can make bargains? Now you can make sustainability discoveries.
Culture
Museums, guided tours, concerts, theaters and more.
Localtys — The app is a Finnish travel and service app that allows you to build your own holiday plans, see what you can find on the route side conveniently and discover new experiences. An app that reduces the adventure of different channels and is entirely based on your location and what you want to watch.
Localtys - application offers opportunities
You will be able to view the services you want by delimiting categories or then view all.
You can pre-plan your route and find new destinations for your trip or then look in traffic at what's coming and near. Find the events and services at your place of residence or leisure and make a daily experience.
01
Find an interesting place
We don't always even know what you can find in our own place, or there are a visit. Now you can look at the location based on things that interest you.
02
Find new destinations along your route and make a plan
Mietitkö mitä kivoja kohteita matkalta voisi löytyä? Missä voisi yöpyä? Nyt voit katsoa mitä kivaa reitilläsi olla ja luoda ajomatkastakin elämyksen. Tee suunnitelmasi ja nauti! Voit helposti jakaa myös kavereille vinkit.
03
Favorites
You can find interesting places or your favorite cafe or shop. Can mark them as favorites and share with friends, but you will also be able to keep track if they have good deals or events on offer.
04
Reviews
Your grade is important that others know. Give reviews to the companies you've visited and that's how others know if the target is right for them. The main thing is that the company knows that it has been successful in its service and operations. They also get valuable information about their development points, if any.
05
Suggestions
You will receive suggestions on items that could be of interest to you in the app. The suggestions are based on the categories you specify in the application yourself.
We also make suggestions on trips and user experiences on the site.
06
Give tips to other
You can easily share places and tip your friends. You will also be able to plan a route and a whole route together for your trip, with shared route function
(Works only in the app released in summer 2022)
What is Localtys?
The free Localtys app allows you to search for services along your location, resort or driving route. You can see services, events and routes from one location. You can explore things that interest you either beforehand or just at the destination. Localtys — The app is a Finnish innovation that offers you more than you can expect.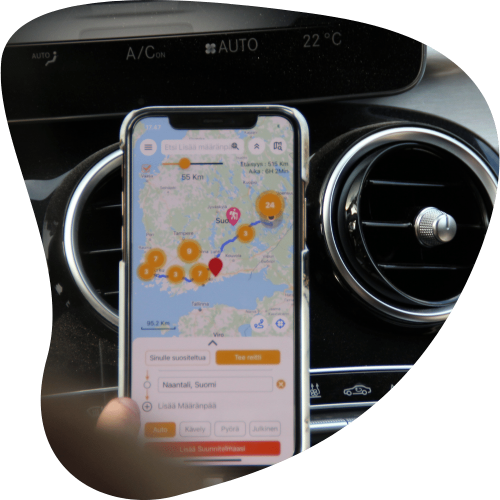 Read other s' stories and tips. Want to share your own tips in the form of an article? Put us an email at info@palvelutlahella.fi
Enonkoski tarjoaa monenlaista tekemistä lapsiperheille ja aikuisille. Hyvällä sijainnilla oleva aktiivinen kunta panostaa paikallisiin ja matkailijoihin.
Lue lisää»
Localtys-palvelulle on myönnetty Avainlippu-merkki, joka kertoo palvelumme kotimaisuudesta. Olemme otettuja Avainlippu-merkistä, sillä haluamme tehdä töitä sen eteen, että voimme tuoda kaikkein pienimmätkin yrittäjät ympäri Suomea saavutettavaksi kaikille. Haluamme mahdollistaa sen, että jokainen pystyy luomaan omia elämyskokonaisuuksia ja käyttämään yrittäjien palveluita
Lue lisää»
Localtys – Palvelut lähellä kehitys Kehitysuutisia Palvelut lähellä konseptin polku on ollut pitkä ja vaihderikas, mutta nyt aletaan olla lähellä sovelluksen loppua. Huomenna (15.6.) Localtys sovelluksen ensimmäinen versio tulee testiryhmälle kokeiluun ja viime hetken muutoksia tehdään ennen julkaisua.Vaihdoimme sovelluksen nimeksi
Lue lisää»